Garage FLOORING Cape Coral Florida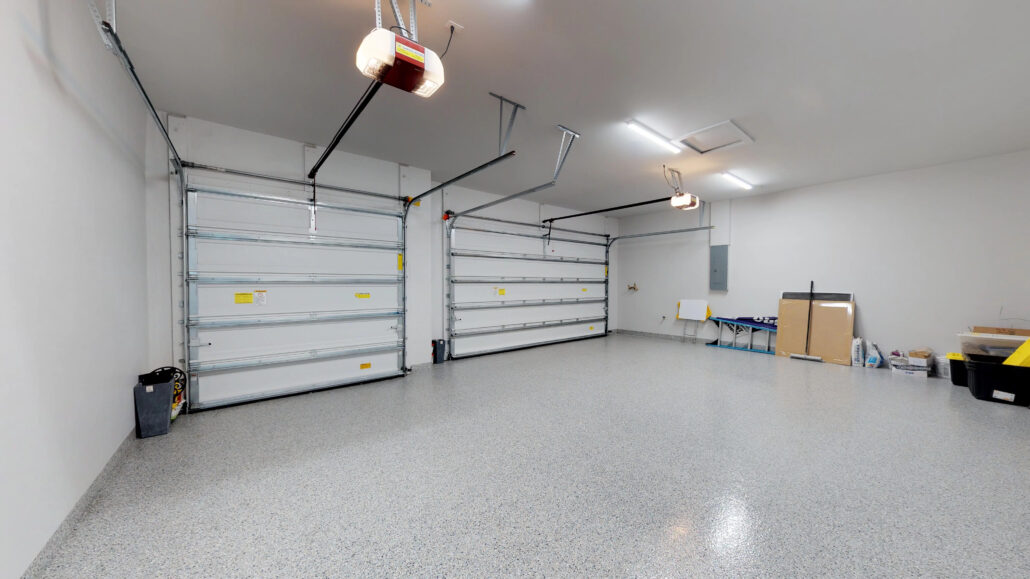 GARAGE FLOOR COATINGS CAPE CORAL
It is not surprising that epoxy coatings have become one of the most popular garage floor options today because our garages have developed into more than just a place to put our cars.
The concrete floor may develop cracks, stains, dust, and a worn-out appearance if it is not sealed and shielded from regular use.
Our epoxy garage flooring can help in this situation.
Epoxy flake flooring is one of the toughest and longest-lasting garage floor coverings on the market. They can turn your drab or outdated concrete into a polished, professional-looking surface that is attractive and useful, in addition to protecting your garage floor.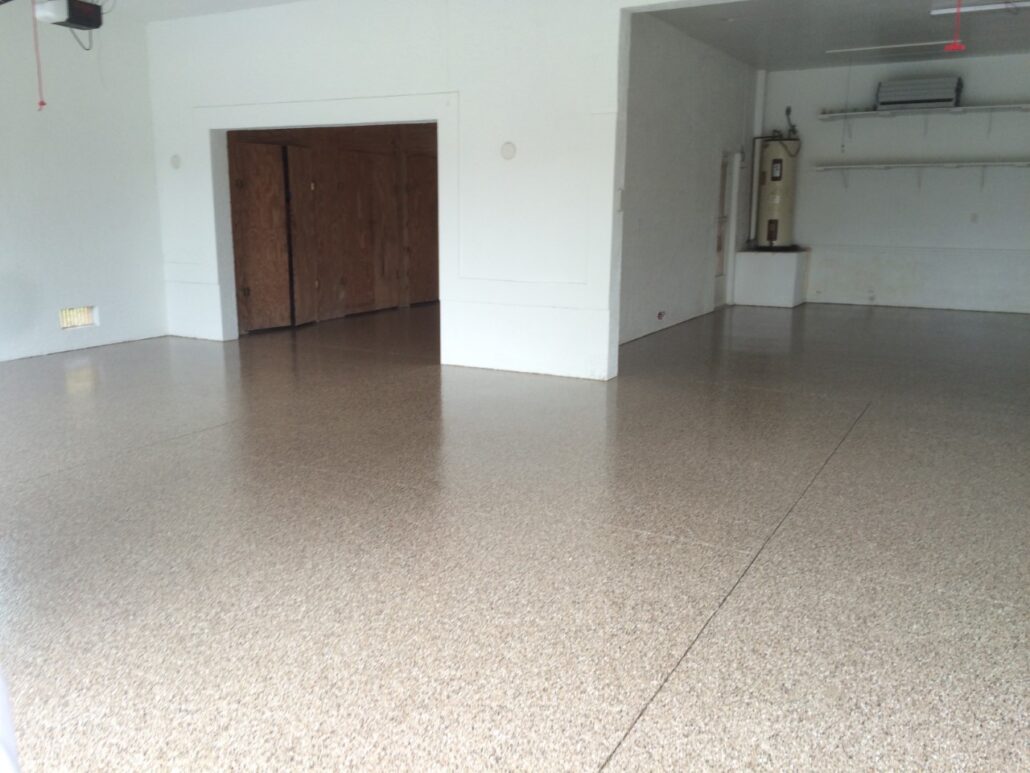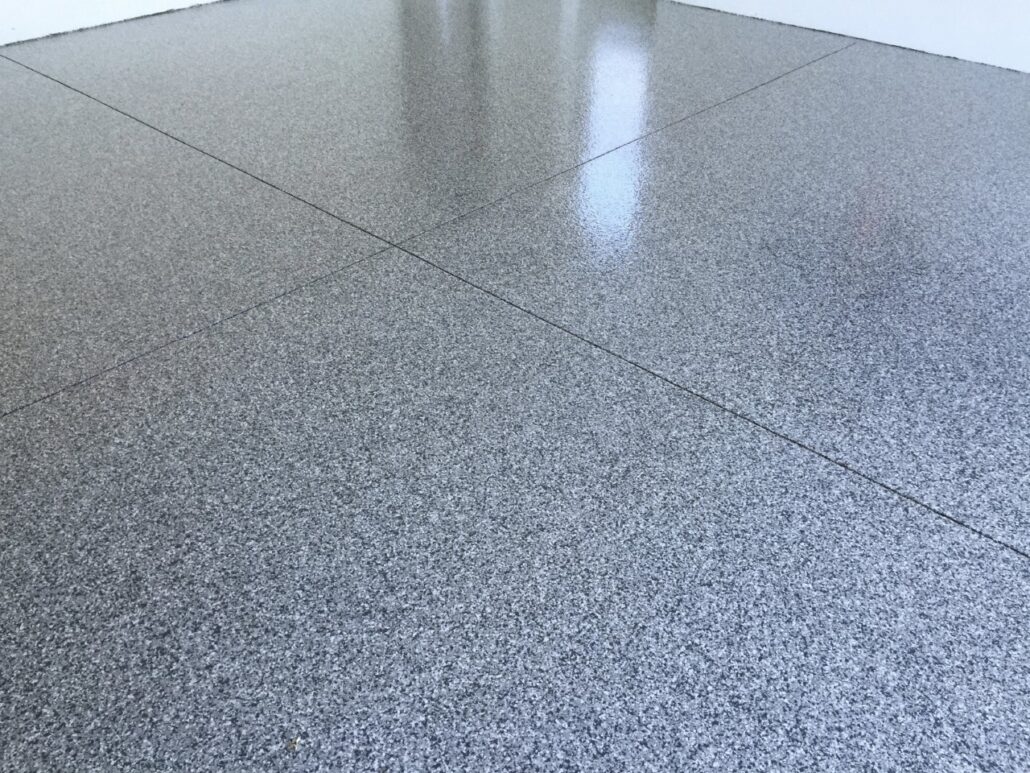 HAVE A LARGE COMMERCIAL GARAGE FLOOR PROJECT?
We would be delighted to speak with you about your more extensive requirements. We have a certified team of employees and heavy duty equipment that deliver several large projects each month, all of which require large-scale flooring work to be completed on time and within budget. Get in touch today! Call: 239-628-6436
EPOXY GARAGE FLOORING BENEFITS
DURABLE
Our industrial-grade, high-performance epoxy coatings are made to penetrate deeply into the pores of the concrete and harden to a thickness that will remain solid while still displaying flexible qualities. Tire marks, chipping, cracking, and hot tire pick-up are now things of the past, thanks to these distinguishing qualities.
EASY TO CLEAN
Epoxy cures to a non-porous, seamless surface. The floor surface will be impervious to water, oils, dirt, and bacteria, which would otherwise leave behind unsightly stains or grime. Cleaning your Cape Coral garage floors will require only a stiff bristle brush with some light detergent and a rinse.
CHEMICAL AND HOT TIRE RESISTANT
Our epoxy coatings are impervious to most chemicals, road salts, and engine oils. In addition, you can rest assured that your epoxy garage floor is shielded against hot tire pick-ups, thanks to our meticulous floor preparation.
UV STABLE & MOISTURE RESISTANT
Because our topcoats are UV stable, they will prevent your garage floors from turning yellow or discoloring when exposed to the sun. In addition, your new floor won't lift or peel off because of the moisture resistance and waterproof barrier provided by our basecoat and primers.
COST EFFECTIVE
An epoxy garage floor is affordable compared to floor removal, purchasing new tile or vinyl and additional installation costs. Installing epoxy flooring professionally might seem more expensive, but it will be a worthwhile investment because of the length of time the flooring stays intact.
DECORATIVE
To complement any décor, our epoxy garage flooring are available in a wide range of decorative coatings. In addition, the most distinctive 3D metallic epoxy floors are available, along with single solid colors, decorative flake blends, and other options. Your house or business will undoubtedly stand out with one of our garage floors.
HOW WE INSTALL EPOXY GARAGE FLOORS?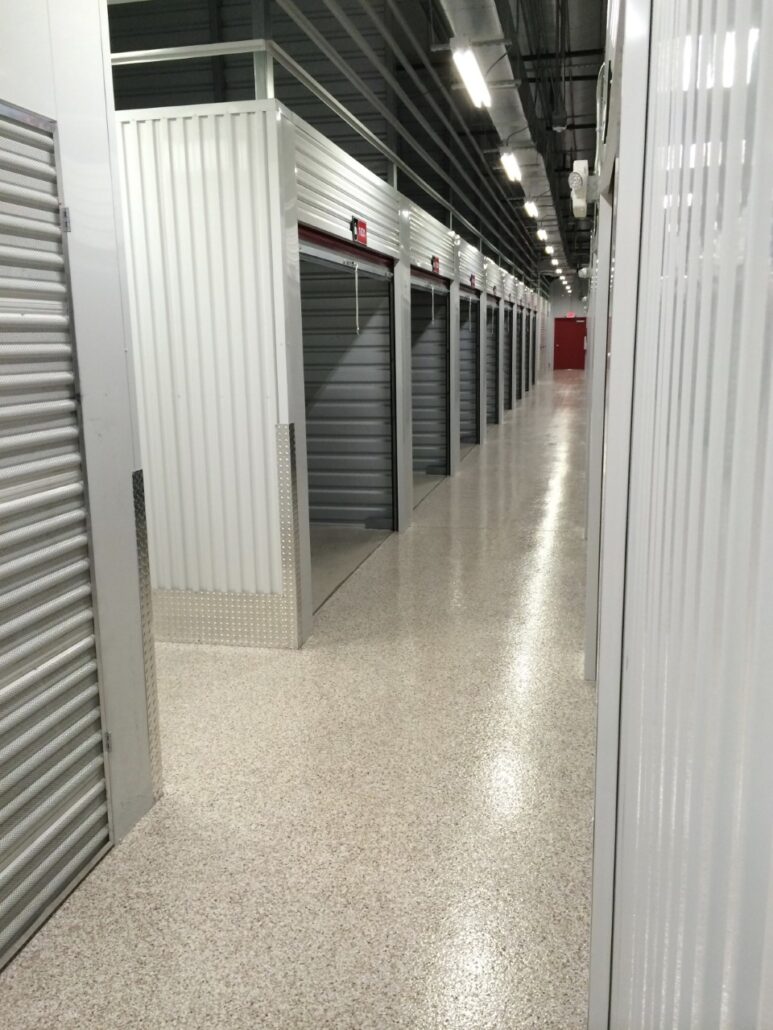 The secrete to every long-lasting epoxy garage floor lies in the floor preparation. Therefore, at Image Custom Coatings we take floor preparation very seriously.
No matter the size, every job we do starts with mechanically grinding the concrete slab. This helps to remove any old paints, oils, stains, dirt and achieve the correct concrete profile for the epoxy to penetrate and bond.
Once the concrete floor is clean and new looking, we move on to repairing any cracks and holes in the floor. Finally, once we are happy with the condition of the floor, we will move on to installing your new epoxy floor.
We first apply a primer coat that acts moisture barrier and better epoxy adhesion. Once the primer is cured, we apply the 1st layer of basecoat. We also broadcast the flakes onto the basecoat if you have chosen an epoxy flake finish. For metallic epoxy flooring, we apply a self-leveling coat containing metallic pigments.
Once the basecoat is fully cured, we will scrape off the excess flakes for an epoxy flake finish. Then, we will apply the second coat of color for solid colors.
We seal every floor with a UV stable polyaspartic topcoat designed to protect the floor from the elements, direct sunlight, scratches, damage and stains.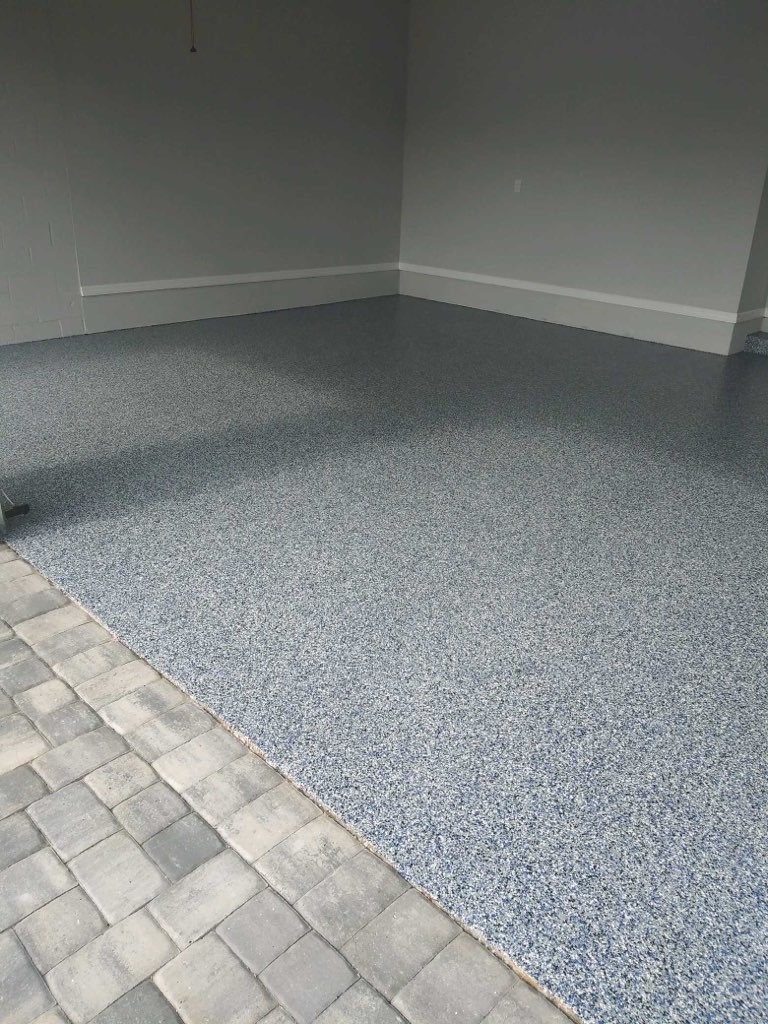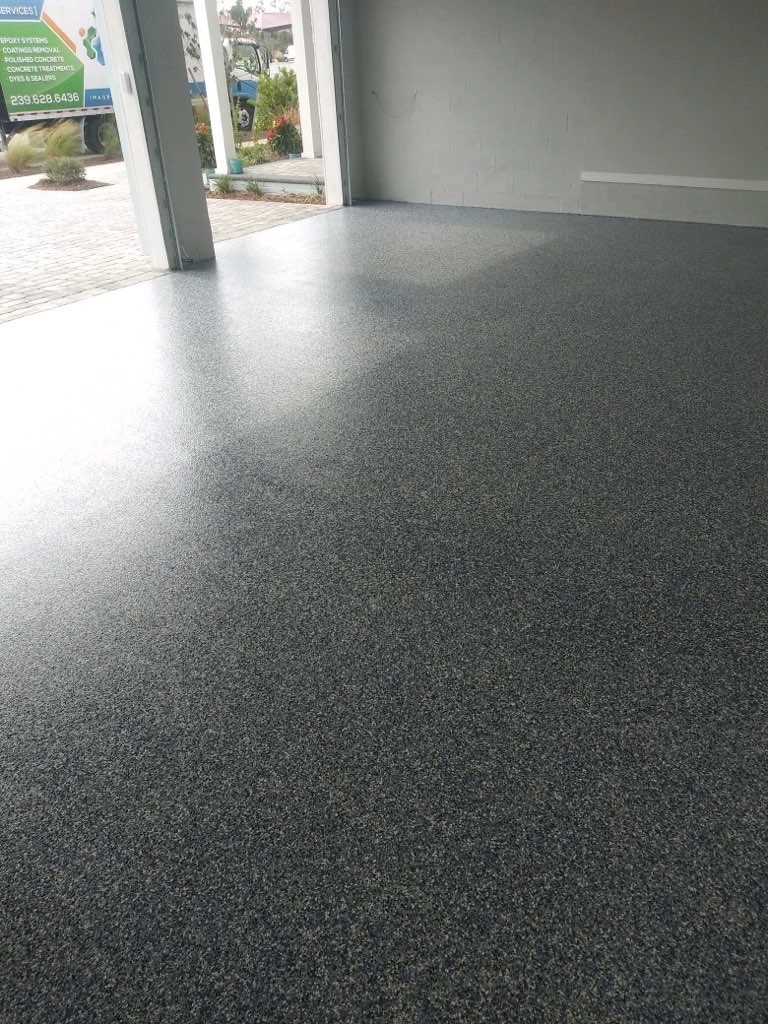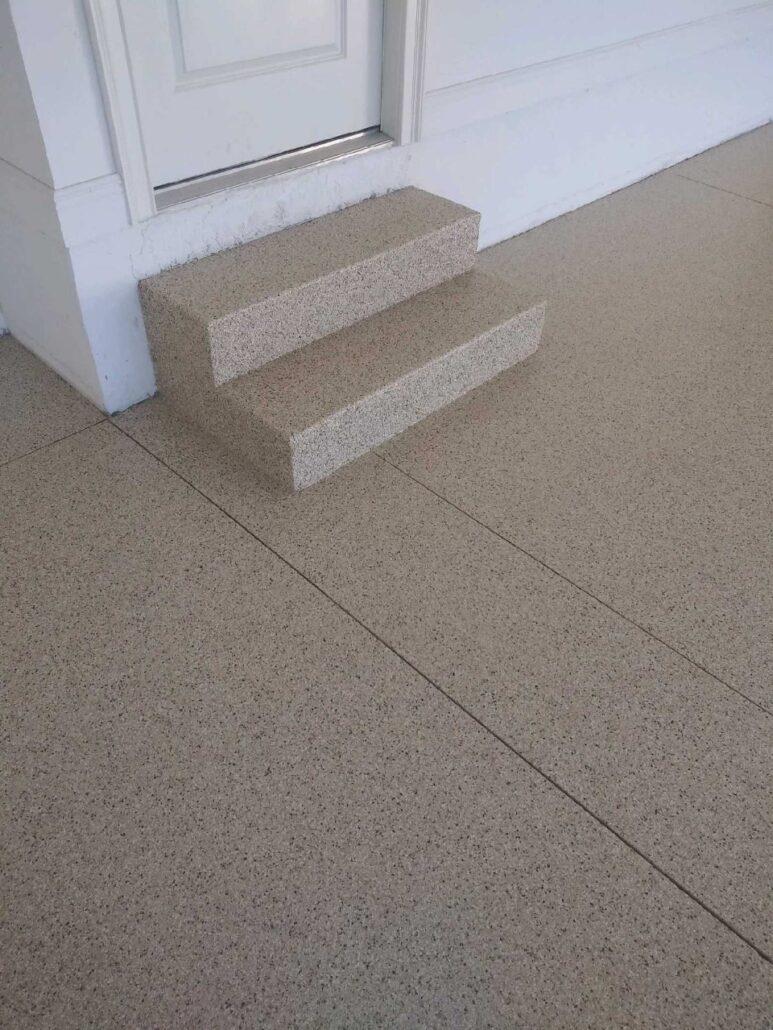 WE SERVICE ALL OF SOUTHWEST FLORIDA
Bonita Springs Fl
Bradenton Fl
Cape Coral Fl
Captiva Fl
Charlotte County Fl
Cleveland Fl
Collier County Fl

Englewood Fl
Estero Fl
Fort Myers Fl
Golden Gate Fl
Immokalee Fl
Lee County Fl
Manasota Key Fl

Manatee County Fl

Marco Island Fl
Murdock Fl
Naples Fl
North Naples Fl
Port Charlotte Fl
Punta Gorda Fl
Sanibel Fl
Sarasota Fl
Siesta Key Fl
Venice Fl
OTHER EPOXY FLOORING NEAR ME